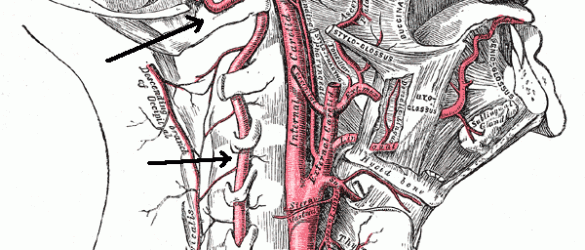 June 8, 2018

·

Maree

·

Case Studies, Success Stories

·

Comments Off

on Vertebral Artery Dissection helped with Bowen Therapy
Bowen Therapy helps the pain of a Vertebral Artery Dissection
After months of pain and stress following a vertebral artery dissection, this client received relief from her pain with Bowen Therapy.  Not only did her condition heal quicker than expected, other health concerns were also helped over time with this gentle therapy.
What is Vertebral Artery Dissection?
Vertebral artery dissection (VAD) is a dissection (a flap-like tear) of the inner lining of the vertebral artery, which is located in the neck and supplies blood to the brain. After the tear, blood enters the arterial wall and forms a blood clot, thickening the artery wall and often impeding blood flow. The symptoms of vertebral artery dissection include a headache, neck pain, dizzy spells, with the possibility of intermittent or permanent stroke symptoms such as difficulty speaking, impaired coordination and visual loss. It is usually diagnosed with a contrast-enhanced CT or MRI scan.
Vertebral dissection may occur after physical trauma to the neck, such as a car accident, direct blow to the neck, strangulation or manipulation. Treatment is usually with either Aspirin or Warfarin.
Case Study
In January 2012, a 34-year-old woman arrived at my clinic in a very fragile and distressed state.
This gentle young woman informed me that she had been suffering from lower back pain, due to the nature of her work as a nurse over the past 10 years.  In November 2011, after sharing this back problem with a colleague, it was suggested that she visit a local chiropractor with whom her colleague had gained results.
During this very short visit to the chiropractor, very little background history was taken, and my client was given a 'cold' manipulation of her neck which caused her excruciating pain.  She immediately asked the therapist to stop and left the clinic with severe pain, headache, nausea and dizziness.
Following this incident, she went back to the hospital where she worked, was referred to a specialist and then had an X-ray and MRI.  These tests showed that she had a Vertebral Artery Dissection.  She was immediately taken off ward duties, took sick leave and has been unable to work ever since the incident.
This diagnosis caused my client considerable distress, due to the fact that she worked as a nurse at a large Sydney hospital, and was well aware of the consequences of such a condition.  She was put on long-term Aspirin to dissolve the blood clot, but her daily headaches, disorientation, nausea and anxiety attacks continued.  She was unable to work at all and was not allowed to lift anything.
Thankfully a friend recommended she seek out a Bowen Therapist.  Although a little hesitant on her arrival at my clinic, I assured her that I would only be doing very gentle soft tissue moves on her body, to help release her anxiety AND that I would not touch her neck – she began to trust the therapy.
My client also informed me that she had suffered from disturbed sleep and was losing weight since the incident in November.  Also, she told me that she had always had irregular, painful periods and was taking Thyroxin to balance her thyroid function.  This was to assist her in falling pregnant in the future.
We commenced our weekly visits.
Visit 1:  During the first visit, I performed the BRM's and Respiratory procedure. I did not touch her neck as it was so painful and immobile, due to the trauma, and her fear of moving her neck and causing a possible stroke was overwhelming. She had very strong 'waves' throughout her body in-between the Bowen moves, which really surprised her considering the gentleness of the therapy. I allowed long 'waits' in-between moves waiting for the sensations to stop before continuing. She felt far less stressed immediately following this treatment and I gained her confidence.  She couldn't wait until the next visit!
Visit 2:  This week my client entered the clinic in really high spirits informing me she had experienced only one headache and only three episodes of vertigo that week.  During the BRM's she felt intense sensations down her legs and into her left foot, which had been malformed from birth, on which she had reconstructive surgery as a child. Therefore, I included Hamstring/knee procedure on this visit.  She was comfortable with me performing the neck moves (they were performed with great caution and gentleness).
Visit 3: This week my client presented with a more positive, relaxed demeanor with only a slight headache and two episodes of vertigo in the preceding week.  Procedures performed were BRM's, Respiratory, Pelvic and TMJ.
Visit 4:  By this visit, my client was 'hooked' and was singing the praises of Bowen Therapy to everyone!  However, she was experiencing very tight shoulders and neck muscles.  So, I suggested she apply Bowtech Ease to her sore muscles each day until our next appointment, to assist the general muscular pain in her neck and shoulders. This visit I performed BRM's, Respiratory, Pelvic and West procedures to release her tight shoulders.
The previous week she had begun going to a specialized physiotherapist who was simply putting her on an exercise program to build up the muscles that had begun to atrophy over the past 5 months and to increase her muscle mass. There was no TENS machine or a massage performed.  She was walking in the heated pool as well to increase her strength and muscle mass.
Visit 5:  The client had experienced no dizziness during the past week and her neck/shoulder pain had eased immediately following her last treatment.  She was more positive and had only experienced a mild headache.  This session I repeated the Hamstring/Knee and the TMJ procedures.
Visit 6:  On this visit, she had experienced NO DIZZINESS again during the past week AND her 'clicky' hip (which she had failed to inform me of) had resolved after causing her problems for years.  As the sensations were still strong in her legs and feet, I performed the Hamstring/Knee procedure again.
Visit 7:  During the weekend since our last visit, my client had experienced an emotional relapse due to the stress of not being cleared to go back to work.  Mild stress headaches had returned, but following the treatment, they dissipated.   To help her with 'moving forward', in line with my Mind and Body Bowen training,  I performed the Respiratory, Knee and Ankle procedures, to assist in releasing the fear and anxiety held in Kidney/Bladder meridians.  She felt very relaxed following this treatment.
Visit 8:  My client was much more relaxed this visit and she informed me of another Bowen miracle – her sight had improved and will need to change her prescription AND her period came on time with no pain.  I performed the Respiratory, Ankle and TMJ procedures.
Visit 9:  Due to the stress associated with this incident, my client began to lose weight again.  I was only able to perform the Respiratory/Gall Bladder and Kidney procedures when she proceeded to have a strong 'unwinding'.  I left her to rest for another 30 minutes following this release.
Visit 10:  This week my client had to undergo a prolonged assessment from a medical team as part of her legal proceedings.  She felt extremely stressed by this as her neck is still a very sensitive area.  She also had blood tests taken that week and her endocrinologist informed her that her thyroid function was now normal (although the doctor didn't know why) and was taken off Thyroxin.  She informed the doctor she had been having Bowen Therapy and handed the doctor a brochure.  Another miracle!  This session I wanted to start doing more work with the hormonal balance so I performed the left Coccyx procedure.  She informed me of a tight diaphragm after I had completed the Coccyx procedure, so I included the supine Respiratory procedure.
Visit 11: This visit I was informed that my client had to face another MRI following this treatment and she was very anxious about the possible outcome.  Having another MRI would determine whether the tear had repaired or not, and whether she would ever be able to return to nursing or any other work.  This visit I performed the Respiratory, right Coccyx and TMJ procedures (she coped with this combination without any strong reaction).
Visit 12:  This visit a very excited client arrived informing me that she "was over the moon" today as the MRI results said: VERTEBRAL ARTERY DISSECTION RESOLVED – meaning that the artery is completely healed.  The specialist was amazed, but Dora and I were not surprised. We were expecting a good result. This visit I performed the Kidney, Respiratory, left Coccyx and North procedures.  She was very relaxed following this treatment and floated home.
 Conclusion:
My client has now been given the go-ahead to return to work 3 days a week.  Her periods have remained normal and pain-free.  Perhaps we will hear the news of another Bowen baby miracle in the near future!  She wants to continue her weekly Bowen Therapy sessions to keep her well and able to cope with the challenges that still face her with work and whatever life brings.
Bowen Therapy has given this client back her happy, healthy life.
If you liked this info on Bowtech Works, say thanks by sharing it:
Tags:
anxiety
,
back problems
,
Bowen Therapy
,
headaches
,
vertebral artery dissection