Tissue Salts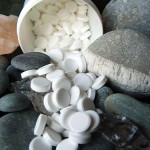 Tissue salts are considered the building blocks of the body, which assist in directing the nutrients we obtain from our diets into the body's cells, thereby restoring the natural balance of the body.
In the early 19th century,  a German chemist and physicist, Dr Schuessler, identified the 12 tissue salts located in every human cell and found that if these vital minerals are lacking in the body, an imbalance occurs which may lead to ill health or disease.  Minerals help maintain a healthy balance in bones, teeth, muscles, soft tissue and nerve cells.
Schuessler Tissue salts are homoeopathically prepared micro-doses of the body's 12 essential minerals.  They pass rapidly into the body through the bloodstream, thereby restoring the natural balance of the body quickly and efficiently.
Tissue salts are:
suitable for the whole family
easy to chew and pleasant tasting
safe to use with prescriptive medicines
non-toxic and non-addictive
available in lactose free sprays and creams
If you would like further information on how Tissue Salts can improve your general health and wellbeing, please contact Maree for a relaxed, no obligation chat.
M:  0412 080051    
info@bowtechworks.com.au
If you liked this info on Bowtech Works, say thanks by sharing it: