February 25, 2015

·

David Spears

·

·

Comments Off

on
EMERGENCY Essence Oral Spray has a calming effect during a crisis and is excellent for any emotional upset. If a person needs specialized medical help, Emergency Essence Oral Spray will provide comfort until treatment is available.  Administer two sprays under the tongue every hour or more frequently if necessary, until the person feels better.
Emergency Essence Oral Spray is a fast acting natural formulation, developed using Australian bush flower essences.  It is nature's relief for everyday distress and can be used safely on infants, children, the elderly and when pregnant.  Good for pets too!
Emergency Essence Oral Spray will have an immediate calming effect during any crisis.
Emergency Essence can help:
during and after shock or an accident;
after a  fall or an injury;
work or relationship pressures;
anxiety prior to exams or public speaking;
pre-wedding jitters;
moving house or countries
Emergency Essence Oral Spray will come to the rescue whenever the body is in crisis!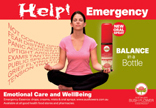 Ingredients:  Bush Flower Essences: Angelsword, Crowea, Dog Rose of the Wild Forces, Fringed Violet, Grey Spider Flower, Sundew and Waratah. (Emergency Essence is also available in a Mist and Cream)
Directions:  2 sprays on the tongue, anytime, anywhere.
Read more about Australian bush flower essence products