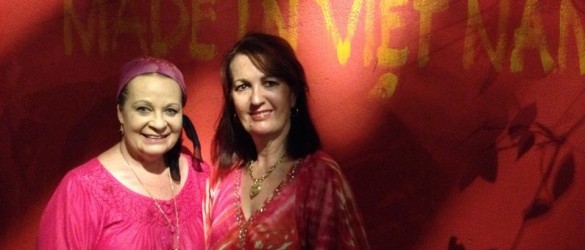 January 31, 2014

·

Maree

·

Articles

·

Comments Off

on Fund-raising Dinner Thank You
The Fund-raising Dinner for the forgotten children of Ky Quang II pagoda Orphanage, Ho Chi Minh City, Vietnam, was held on 21 March this year. 

The Ky Quang Orphanage is run by monks in the Ky Quang Pagoda, Ho Chi Minh City, Vietnam.  It is a place of charity for more than 200 disabled and sick children who have been abandoned by their families.  The ages of the children range from 5 days old to 40 years old.  Ninety of these children are suffering from cerebral-palsy, blindness or Down's syndrome. Others have disabilities as a result of abortion drugs that haven't worked or have congenital mutations following the Vietnam War.
This fund-raiser was the brainchild of my dear friend of 35 years, Tania Curtin, who visited this orphanage in 2012 and was so touched by the conditions of these children, she wanted to do something to make their lives more comfortable.
The experience of personally visiting the orphanage with Tania was something I will never forget.   We had two days to visit the orphanage, speak to the carers and with the help of an interpreter and driver, took our list to the local shops and delivered our lengthy list of goods to the carers at the orphanage.  I have to say, the shopping was more difficult than organising the fund-raising dinner, as it was so hot and humid, plus I developed a severe cough from a virus I contracted over there.  So it was challenging, but so, so rewarding!
Thanks to the generosity of our families, friends and clients, we were able to raise over $5,000.00.  These funds went a long way to providing the necessities of life, such as:
baby formula (babies were being fed UHT milk),
disposable nappies for infants and adults who are incontinent,
mattresses and bunk beds for the infants and teenagers who were sleeping on the hard floors
hot water urns for the live-in carers so they can make tea and hot noodles
microwaves to heat food and baby formula
Tania and I will be revisiting the orphanage again later this year to keep the children supplied with essentials and to buy more beds for those who missed out last time.
If you would like to support our project, please contact:
Maree Kendall – 0412 080 051
Tania Curtin – 0404 130 226


I
If you liked this info on Bowtech Works, say thanks by sharing it: